Beef Pot Pie à la Shepherd's Pie.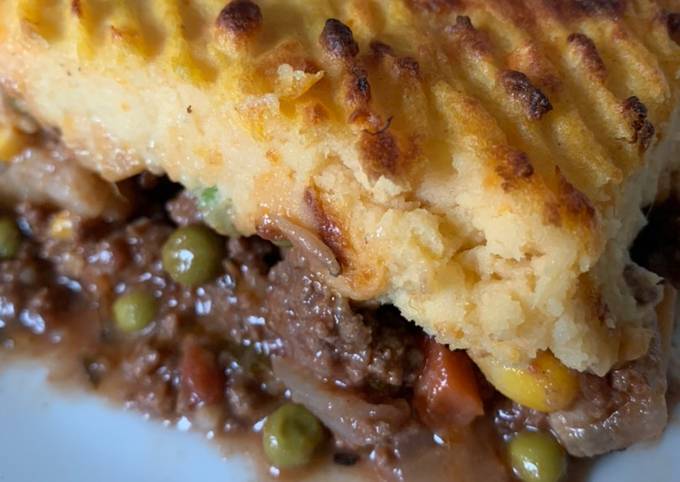 You can cook Beef Pot Pie à la Shepherd's Pie using 23 ingredients and 8 steps. Here is how you achieve it.
Ingredients of Beef Pot Pie à la Shepherd's Pie
It's of 1 onion, finely chopped.
It's of 1 tablespoon vegetable oil.
It's of 2 pounds ground lean beef.
Prepare of 2 cloves garlic, minced.
It's of 1/2 cup dry sherry or red wine.
You need of 1 cup crushed tomatoes.
Prepare of 1/2 cup chicken stock.
It's of 5 teaspoons salt.
Prepare of 1 teaspoon sugar.
You need of 1 teaspoon dry thyme leaves.
You need of 2 bay leaves.
You need of 1 tablespoon Worcestershire sauce.
Prepare of 1 envelope unflavored gelatin.
Prepare of Ground black pepper.
Prepare of Frozen or fresh vegetable mix that includes carrots.
It's of 2 cups frozen peas.
Prepare of 3 1/2 pounds Yukon Gold potatoes or yams or a combination, peeled and cubed.
Prepare of 5 tablespoons butter.
You need of 3/4 teaspoon ground nutmeg.
It's of Ground white pepper.
You need of 1 3/4 cup milk.
You need of 1 egg, beaten.
It's of Parmesan cheese.
Beef Pot Pie à la Shepherd's Pie step by step
In a Dutch oven sauté onion in oil for 5 minutes at medium temperature..
Add beef and cook, breaking it into pieces and stirring occasionally for 10 minutes. Add garlic and keep cooking until there's no more pink..
Add sherry and let the alcohol evaporate. Add tomatoes, stock, 2 teaspoons salt, sugar, thyme, bay leaves, Worcestershire sauce, gelatin powder, and ground black pepper to taste. Mix and cook for 10 minutes..
Preheat oven to 425F..
Add vegetables and cook for 10 minutes. Remove bay leaves..
Pour mixture in a 15×10-inch baking pan that is on a rimmed baking sheet. Scatter peas on top..
Make mashed potatoes by steaming them, ricing them and mixing with butter, nutmeg, 3 teaspoons salt, milk, and egg. Pour in a piping bag and distribute over peas evenly. Sprinkle Parmesan cheese and smooth with spatula..
With a fork create a pattern and bake until the top starts to brown. Let it rest for at least 20 minutes before eating. It can be made ahead: let it cool, wrap in plastic, and refrigerate for up to two days; then reheat in a 350F oven for 30 minutes and then broil for a few minutes..